Seattle Automotive Locksmiths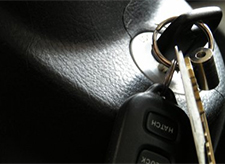 Because our locksmiths are on call 24 hours a day, 7 days a week, we are able to provide a number of different automotive services at any time you need. Let us pretend that you accidentally locked your only car key in your vehicle one night. By simply calling us, a locksmith will be dispatched to you and take care of the problem. We guarantee that no damage will be done to your car while attempting to unlock it. We can even make you an extra key, so that you can possibly avoid repeating this scenario in the future.
Our mobile auto locksmiths provide the fastest roadside assistance for lockouts, lost and broken car keys at the most reasonable rates. We have extensive knowledge with vehicle opening, originating new car keys for high security and regular models and programming transponder keys and remotes. We can help with keys broken and/or stuck in ignition, lost car keys, lock outs, faulty locks, provide solutions to problem with transponder keys, ECU programming and much more. Our services are available to the general public, as well as the motor trade. With us, we keep up with the constantly improving security technology installed on most vehicles from 1996 and up, therefore our field technicians are equipped with top of the line machinery for cutting keys, and high end programming equipment, so that we can get you back on the road as fast as possible.
Our locksmiths are constantly learning so that they keep up to date on the locks being put on cars today. We are experienced in lock and ignition lock repairs. No matter what kind of lock problem you are encountering in your car, we can help. All you have to do is contact us, so do not wait! After all, waiting for the dealer to replace your keys can be time consuming and expensive. With locksmith services provided in the area, we will have your car unlocked as fast as possible with no damages, so that you can go on with your day without any more interruptions.
Residential Seattle WA Locksmith Services
Maybe you got caught somewhere out and about town or your still indoors at home and need your car keys replaced because you have lost keys or any slew of other lock & key related situations. You might be in an area you don't know and are searching for a car locksmiths who specialize in open trunk, key cutting, lock pick or can make keys for a specific model of car keys. In these cases, our locksmith company can send one of our highly qualified technicians to effectively address your needs. We take care of broken and lost car keys, faulty locks and lockouts during our quality driven locksmith services.
Automotive Seattle WA Locksmith Services
Our trained technicians provide a complete range of auto locksmith services such as ignition replacement, lock pick, open trunk and unlock door services, as well as replacement keys for lost keys. Highly trained technicians can arrive help you with all your auto lock smith needs. No matter where you are located in town, if you are in need of a good car locksmith; regardless of which brand of car keys, be it a switchblade key, chip key programming, transponder key programming or regular car key cutting, call us anytime and we'll get your new keys made quick or our car locksmiths can help you with any replacement keys you may need.
Commercial Seattle WA Locksmith Services
We're here to answer any questions you might have about our car Locksmith service and we can help you get a wide range of services. Our Trained technicians can undertake locksmith services for any car keys you have regardless of what model automobile it is including: VW aka Volkswagen, Audi, BMW, Mercedes, Volvo, Pontiac, Acura, Isuzu, Toyota, Honda, Ford, Nissan, Jeep, GMC, Chevrolet and more. Trust us to provide you with quick, professional and efficient service at a great price. Contact a professional locksmith today.
Emergency Seattle WA Locksmith Services
The car key being made depends on many factors which are sometimes out of the control of the technicians and hence they reserve the right to decline making a certain key type. If this is so, there will be no charge to the customer and the customer will be notified at the earliest possible time. We are your one stop shop for all of your auto locksmith needs. We are an emergency locksmith company who is fast and affordable, making our company the right key, locksmith and lockout source for your needs. An auto locksmith can get you inside your vehicle without damage, such as chipped paint or broken windows, that trying to get in your car instead of calling a proper locksmith can cause.
Local 24 Hour Locksmith Service Areas
All your Automotive needs can be made simple with professional technicians who will be able to help you with anything from key duplication for lost keys to extraction of broken ignition keys. GM VAT keys, high security vehicle locks, open trunk and transponder chip keys. Our automobile locksmith services are offered to the public and the automobile business owners. Our extensive experience in locksmith services allow us to cut and program new keys for the majority of cars run at roadside across. Our services including Transponder key programming, unlocking of vehicle doors, lock plate installation and transponder sets installation and more! Give us a call today!